++++++++++++++++++++++++++++++++++++++++

Travel Fund Donations

Our Association has received generous Travel Fund
donations from Stan VonFeldt and
Barney Tharp. Thanks Guys !! (4/07/13)

++++++++++++++++++++++++++++++++++++++++

You can make reservations
at the Hotel for the DC reunion
by calling 703-845-1010
or by using this link.
Remember reservations must be
made before 8/10/13
to receive our special rate.





++++++++++++++++++++++++++++++++++++++++

Here is the registration form for
the Washington 2013 Reunion
Registration Form

++++++++++++++++++++++++++++++++++++++++

Here is the tentative Agenda for
the Washington 2013 Reunion
Agenda

++++++++++++++++++++++++++++++++++++++++

Here are some additional notes
on the Washington 2013 Reunion
Additional Notes

++++++++++++++++++++++++++++++++++++++++

Mark Your Calendars

The Men of the 5th Battalion 60th Infantry
Association, their Family and Friends will reunite
from September 11th through
September 15th, 2013
(Yes that's 2013) in Washington DC
This is going to be the Big One...
The 5th/60th is going to The Wall.

We have decided that we are all getting a little bit
older and a little bit less mobile.
Going to The Wall together is better done
sooner than later.
Why September? It's after Labor Day and all the
kids are back in school, so there are a lot
fewer tourists in Washington, plus, the weather is
still very good. We will be starting the reunion a
day earlier (Wednesday) since we are working
on arranging buses to
move us into town, in comfort, to The Wall
and other significant sites in the area.
The reunion will be held at
The Hilton Alexandria Mark Center
5000 Seminary Road
Alexandria VA 22311
We have negotiated a room rate of $99.00 and a
parking rate of $7.00 a night;
both of these are excellent rates for the DC area.
Also a free shuttle is available from
Reagan National Airport.
We will post a registration form soon but for now…


Mark Your Calendars

++++++++++++++++++++++++++++++++++++++++




Peter Nigido, Delta Co 1970, was recently (and very belatedly)
awarded the Bronze Star for his service in Vietnam.
The award was presented at Fort Wadsworth, NY

Congratulations Peter !!!!

(11/4/12)







++++++++++++++++++++++++++++++++++++++++




This picture was sent to us by Master Sergeant Edmund
Scarborough, nephew of Captain Edmund Scarborough,
KIA 5/10/68. The photo shows Captain Scarborough and
two RTOs. It was reportedly taken on that fateful day.
Can anyone identify the two RTOs?
If so please e-mail Metz at;


(9/20/12)
++++++++++++++++++++++++++++++++++++++++
Here is an article that appeared in the Laramie Boomerang newspaper announcing our Association President, Lee Alley, as the University of Wyoming parade Grand Marshall. (10/11/12)
++++++++++++++++++++++++++++++++++++++++
We received this letter
from the Bandido Charlie Association.
Can anyone help this guy?. (7/14/12)
I'm in the center, I think Jerry Morrow is on the left, (to my right). Do you have an email address for him or name and address for anyone else in the picture from 1968? If so please pass my email address along to them.
Thanks, Jim Cook
++++++++++++++++++++++++++++++++++++++++
We received this letter.
Can anyone help this guy?. (7/7/12)
On April 26, 1968, at a little past 2 PM, two of our jeeps left the Main Gate at Dong Tam, heading north to Highway 4, where we had a detachment of MP personnel working with engineers on the road to Cambodia.
The lead jeep was driven by a Sp 4 with a lieutenant in the passenger seat. The trailing jeep was that of our Provost Marshal from Bear Cat, Ltc. Grazioli. Also in his jeep were his Sp 4 driver, a master sergeant (our operations sergeant) and an Australian MP on liaison with us that day.
VC sprung an ambush a short distance north of Highway 25, killing the driver of the lead jeep and severely wounding the lieutenant. According to the article I've attached, members of your outfit were in the vicinity and came to their aid.
All these years later we would love to know who some of those great guys were.
Any info you could provide would be most appreciated.
Dan Anderson,
9th MP Company
++++++++++++++++++++++++++++++++++++++++
Here are some interesting
5th/60th Links. (6/9/12)
This link, from Barney Tharp, is a pictorial concerning Alpha Co.
This link is a news segment featuring Ernie Saldivar, Delta Co,
about a very worthwhile program in which he is involved.
This link is a half-hour show from Wyoming PBS profiling
our Association President, Lee Alley....very well done.
++++++++++++++++++++++++++++++++++++++++
We received this e-mail. Can anyone answer this guys questions?.
(3/18/12)

Hello, My name is Hunter Moyer and I collect pocket patches of the Vietnam
War. I've been trying to reorganize some of my items and decided to do some
reasearch on some of the 60th Inf patches I have. I came across your website
and have been looking through it for over an hour now. It is really great to see
the time and dedication you guys have put in to preserving your history. I am
writing because I have a question on these patches. I was wondering exactly what part/company of the 5/60th they were used by? I saw the Raider one on a
reunion picture but it did not say which company. I cannot find any reference to
any of them as to who wore them or when. Would you be so kind as to help me
or point me in the right direction to someone who can? If you know of any
period photos that these patches can be seen in use, could you let me know? I am
trying to do these little pieces of history the justice they deserve. Also, is there
any way to get a leftover program for the 2010 Recon Raider reunion?
Thank you so much!! Hunter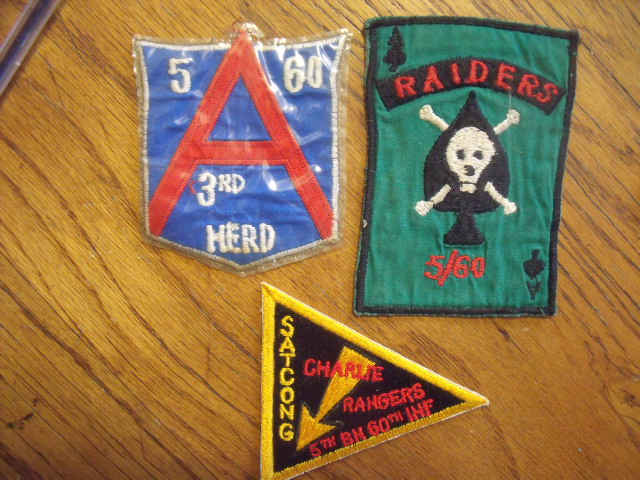 ++++++++++++++++++++++++++++++++++++++++
Here is a photo of some of our 5th/60th guys and their
family members recently taken in Vietnam.
(12/17/11)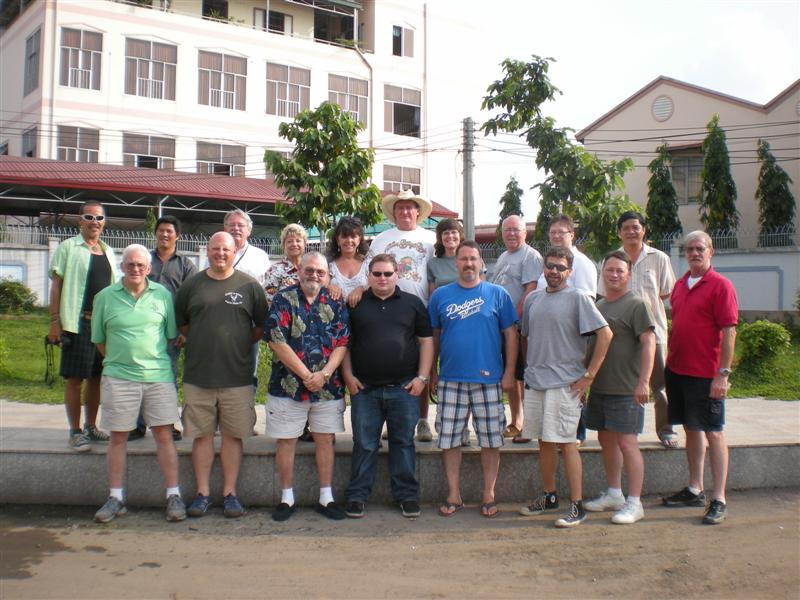 Back Row: Hoy (our guide), Tran (the helper), Andy Robertson B Co, Diana Taylor,
Madeleine Smalley, Wayne Parrish C Co, Glenda Parrish, Jerry Greenwood B Co, Donna Greenwood and Mr. Nguyen (driver)
Front Row: Charlie Taylor C Co, Sam Taylor, Wayne Smalley B Co, Phillip Smalley,
Chris Greenwood, Craig Smalley, Alan Greenwood and Dennis Smith B Co.
David Fritz B Co was not available for this picture.
++++++++++++++++++++++++++++++++++++++++
Our Donut Dollie pals, Emily Strange and Barbara Hager, are
finally immortalized on the Internet. Here is the song that
they and Marge Connors preformed at our 2006 reunion
in St Louis (11/19/11)
++++++++++++++++++++++++++++++++++++++++
This post was on the MRFA web page. Can anyone help?(11/19/11)

This son is looking for information on his father. I did a quick search and
got one hit on the 5/60th being the "Delta Humpin Hundred". Anyone
else recall this term? If you have informatino for John then please
contact him here:
Thursday 11/17/2011 6:52:37pm

Name:

John Connelly

E-Mail:

Homepage Title:

Homepage URL:

Referred By:

Search Engine

Location:

Military Branch:

Army

Military Unit:

9th infantry

Dates Served:

68-69

Comments:

My dad served. He has Alzheimer's now so I don't know all
of his info. I know he was in a group called the delta
humpin hundred. His name is John Connelly.
He was an RTO
++++++++++++++++++++++++++++++++++++++++
Association member Ron Mackedanz was recently awarded a Silver Star at
Fort Riley Kansas for heroic action 42 years ago.
Congratulations Ron !! (11/17/11)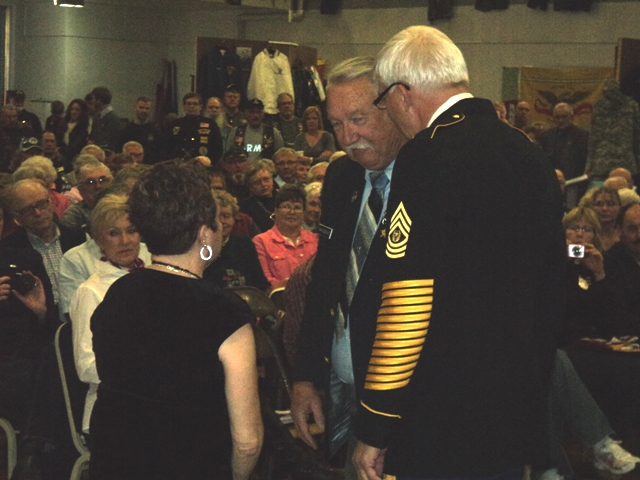 ++++++++++++++++++++++++++++++++++++++++
Barney Tharp represents the 5th/60th at the Lebanon
Kentucky National Cemetery on Memorial Day 2011,(6/3/11)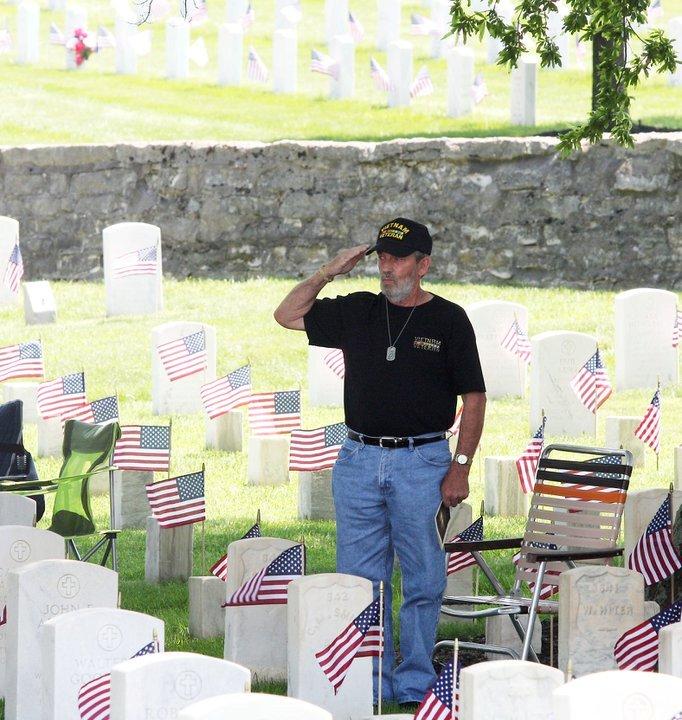 ++++++++++++++++++++++++++++++++++++++++
Travel Fund Donation
Our Association has received Christmas time Travel Fund
donations from Charlie Company member James Jordan and
from the Bandido Charlie Association. Thanks Guys !!(1/09/11)
++++++++++++++++++++++++++++++++++++++++
The Recon Raiders from 1970 recently had a reunion in Fort Dodge, Iowa...A handsome bunch of fellows !!! (11/7/10)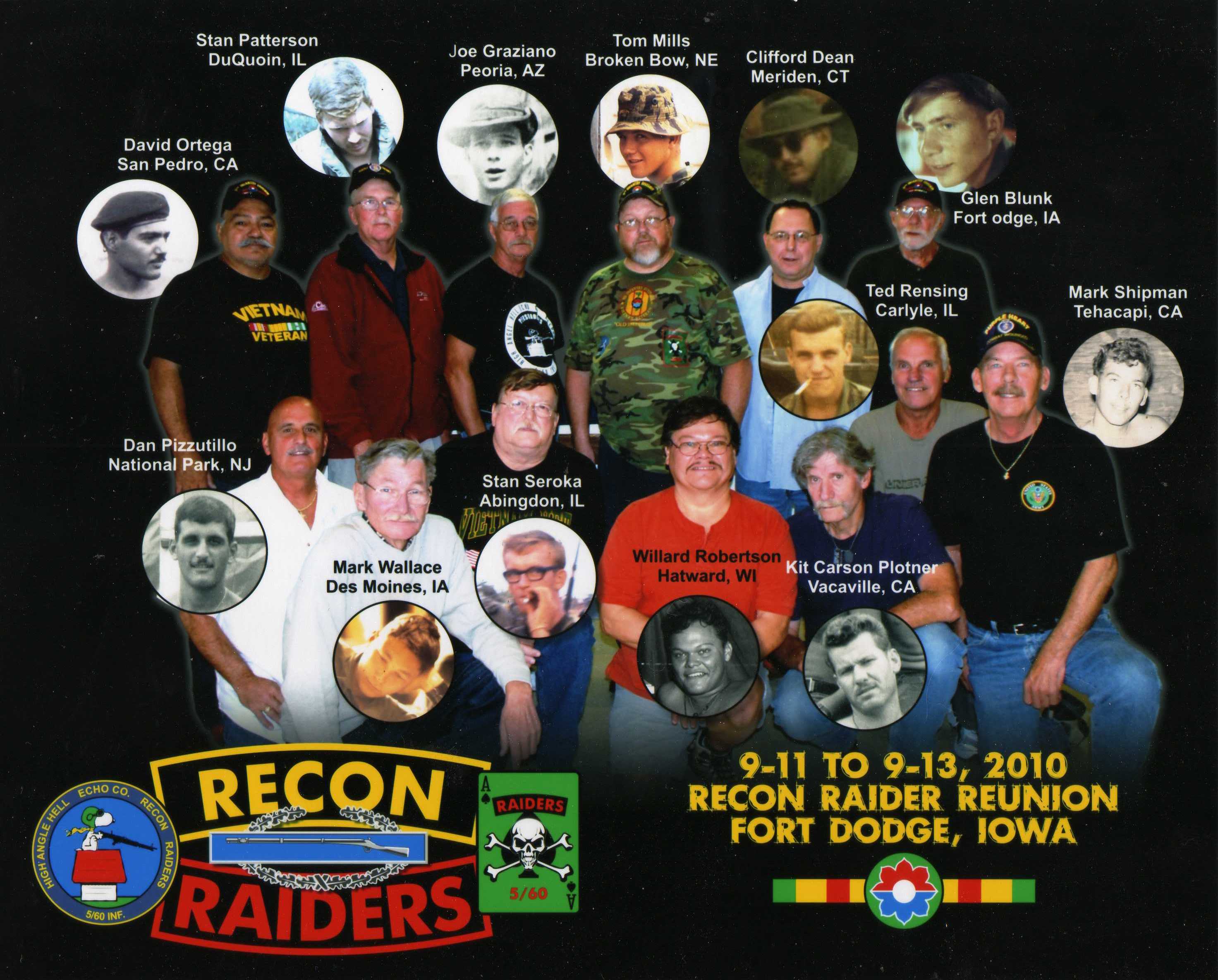 ++++++++++++++++++++++++++++++++++++++++
Tony Sparaco Article
In the September/October 2010 edition of the MOPH Purple
Heart Magazine, on page 27, there is a 1/2 page article with a picture of Herschel Gober pinning the Bronze Star on Anthony Sparaco at the 5/60 reunion in Wichita! (10/17/10)
++++++++++++++++++++++++++++++++++++++++
Wichita Reunion Photos
We have decided this year not to do an "official" Reunion Book. We have put all of the reunion Photos on line, including the
"mug shots". These can be seen on the Photos Page. If anyone
has some photos they would like to post just send them to Metz!! &nbsp(7/5/10)
++++++++++++++++++++++++++++++++++++++++
Travel Fund Donations
Our 5th/60th Association has received recent, generous
donations to our Travel Fund from Barney Tharp, Charlie Taylor, Hershel Gober, Mike Lynch, Wayne Parrish, Fred Lopez,
Geoffrey McCarron, Albert Gulliver, Patrick McAloon, Toby Chaffin, Norm Hirai, Paul Schade, Brian McCormick, Norm
Prance, Harold Steenbergen, Steve Ramsey, Gary Bobbett, Dave Miley, Bob Hill, Terry Schermerhorn, Ted Rinn, Steve Ramsey,
Bob Dornhecker, Bill Presley, Don Westphal, Bob Beechinor,
Buddy Gault, The Bandido Charlie Association and Teresa Lyons (niece of Ed "Big John" O'Hare Dec. 7/16/10).
Thanks guys (and gal) !! &nbsp(7/26/10)
++++++++++++++++++++++++++++++++++++++++
Tony Sparaco, Charlie Co 9/68-4/69, was recently (and very belatedly) awarded the Bronze Star for his service in Vietnam.
The award was presented by Congressman Peter King of Tony's
home district.

Congratulations Tony !!!! (6/11/10)
++++++++++++++++++++++++++++++++++++++++
An article about our Association member, Bob Cooper,
will appear this month in a national medical magazine.
(2/12/10) &nbsp &nbsp
Bob Cooper Article
++++++++++++++++++++++++++++++++++++++++
Our own Buddy Gault was recently named to be
a Distinguished Member of the Regiment (DMOR) of the
1st/16th Infantry. Buddy was feted at Fort Riley.
Congratulations Buddy !!! (9/23/09)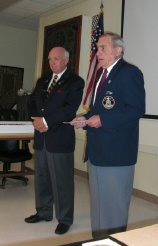 Buddy Gault (left) receiving his award
from Colonel (R) Skip Baker
++++++++++++++++++++++++++++++++++++++++
Men from Charlie Company 1970 recently had a reunion in Great Falls Montana...A handsome bunch of fellows !!! (9/16/09)

Kneeling L - R: Wally McManigle, Leo Woods
2nd Row L - R: Sam Bailey, Bob Carnaghi, Carl Hartley, Toby Chaffin, Bob Lindguist, Bill Smith
Back Row L - R: Terry Stull, Buzz Buswell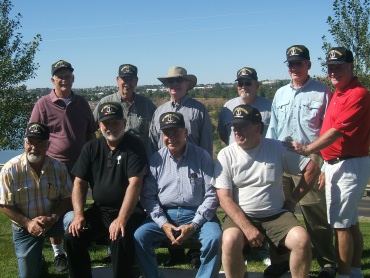 Front Row L to R: Wally McManigle, Toby Chaffin, Bob Lindquist, Leo Woods
Back Row L - R: Bob Carnaghi, Bill Smith, Carl Hartley, Sam Bailey, Buzz Buswell, Terry Stull

++++++++++++++++++++++++++++++++++++++++
Charlie Company 68/69 recently had a reunion in St Louis. As part of the program the men intended to give a special award to Lt Bob Cooper. Unfortunately, Bob took ill right before the reunion and could not attend.
Dennis Rognes (a good man) unselfishly decided to pass up the reunion and fly to Oregon to make the presentation. Congratulations, Bob and Well Done, Dennis
(9/10/09)
&nbsp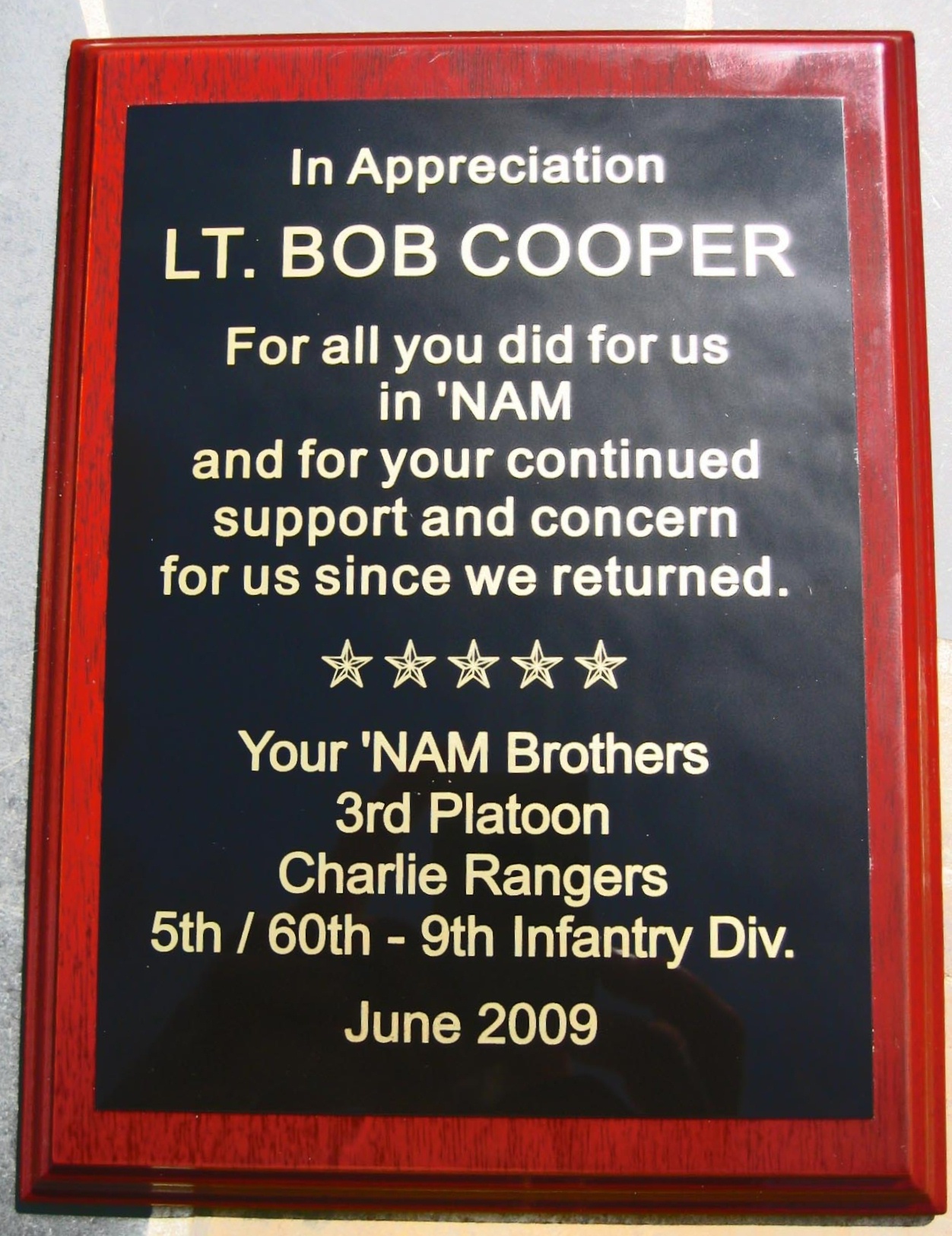 ++++++++++++++++++++++++++++++++++++++++

Dear Friends and Family,

I had the honor and pleasure of interviewing a wonderful man last week in Westmoreland, Kansas. Bill Wedekind fought in Vietnam. An explosion in 1967 cost him his hands and eyesight. Bill also sustained multiple wounds over his body. Bill is one of the most positive, inspirational people I have ever met. He is truly one of my heroes.

Bill makes pottery and speaks to kids about what happened to him. I am putting together a story about Bill to hopefully encourage more people to use what they have instead of focusing on what they don't have. One of Bill's lessons for us is to use what we have - to use what God has given us, to help others.

One of Bill's favorite quotes is from Henry Ford: "If you think you can or you think you can't you are right."

Pictured with Bill are myself and Vietnam vets, Lee Alley (far left) and William Metzler (far right). Lee is featured in my film, "Vietnam Remembered."

Please feel free to share this letter and picture with others. If you would like to write Bill a special message please use the following email address. Tell him you saw his picture and read my letter. Thank you very much.

Bill Wedekind
billw49@bluevalley.net

Warm regards,
Larry Cappetto
LEST THEY BE FORGOTTEN


Watch the CBS News Story



(9/4/09)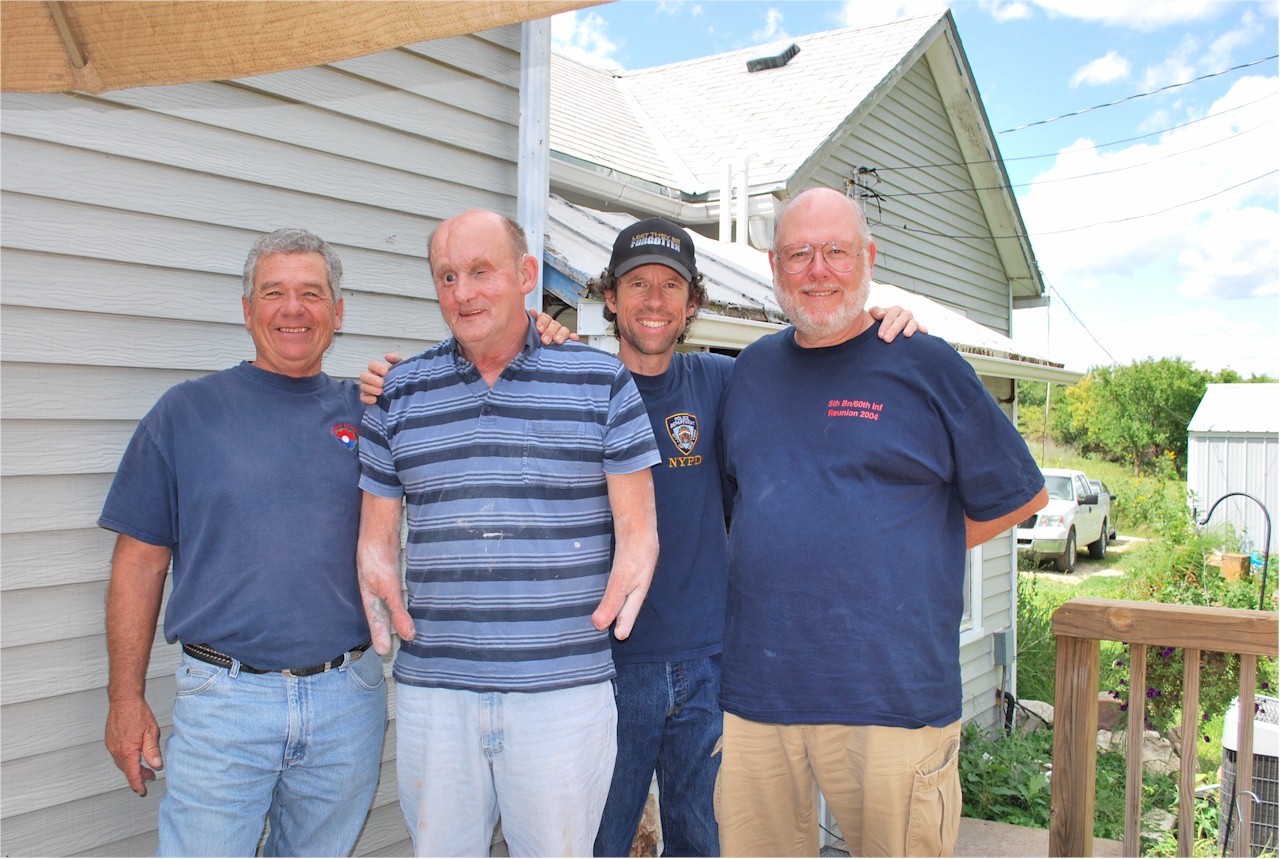 ++++++++++++++++++++++++++++++++++++++++

BRAVO COMPANY HISTORY BOOK

The Bravo Company History book is finally complete, and now available. According to Jerry (Doc) Leppert, over 100 of the books have already been sold. This book is a pictoral history of Bravo company from its training in Fort Riley through its service in Vietnam. It is 40 pages long and contains over 400 photos. Much positive feedback has been received on the book, and many vets are buying multiple copies for family members.

Copies of the book can be obtained by contacting Jerry Leppert at 303-875-9090 during the day or 303-838-3016 during nights and on weekends.



++++++++++++++++++++++++++++++++++++++++

Bob Langley, Delta Co 3rd Plt 12/68-12/69, recently suffered a fairly severe stroke. Bob is powerless on his right side and has some speech problems. His wife, Brenda, reports that he is getting a little better every day and asks for everyone's prayers for a full recovery. Bob is in roon 6N10 of St Joseph's Hospital, 350 West Thomas Road, Phoenix, AZ 85013.


(7/2/09)

++++++++++++++++++++++++++++++++++++++++

Travel Fund Donation

Metz, our Association Secretary, graduated from the University of California, San Francisco, Dental Hygiene program in 1975. (a class of 23...22 women and Metz)
At a recent class reunion they had a mini-talk around, giving everyone the chance to explain what they had been doing for the last few years.
Metz told everyone about our Association, our reunions and the good things that this has accomplished.
He was pleased and amazed today to receive a $400.00 donation from his classmates to our Association travel fund.
(2/23/09)

++++++++++++++++++++++++++++++++++++++++

If anyone needs a copy of their DD214
it can be ordered on this web site.




++++++++++++++++++++++++++++++++++++++++




Men from Bravo Company 3rd Platoon from 1968 recently had a mini-reunion in Orlando...A handsome bunch of fellows !!! (9/26/08)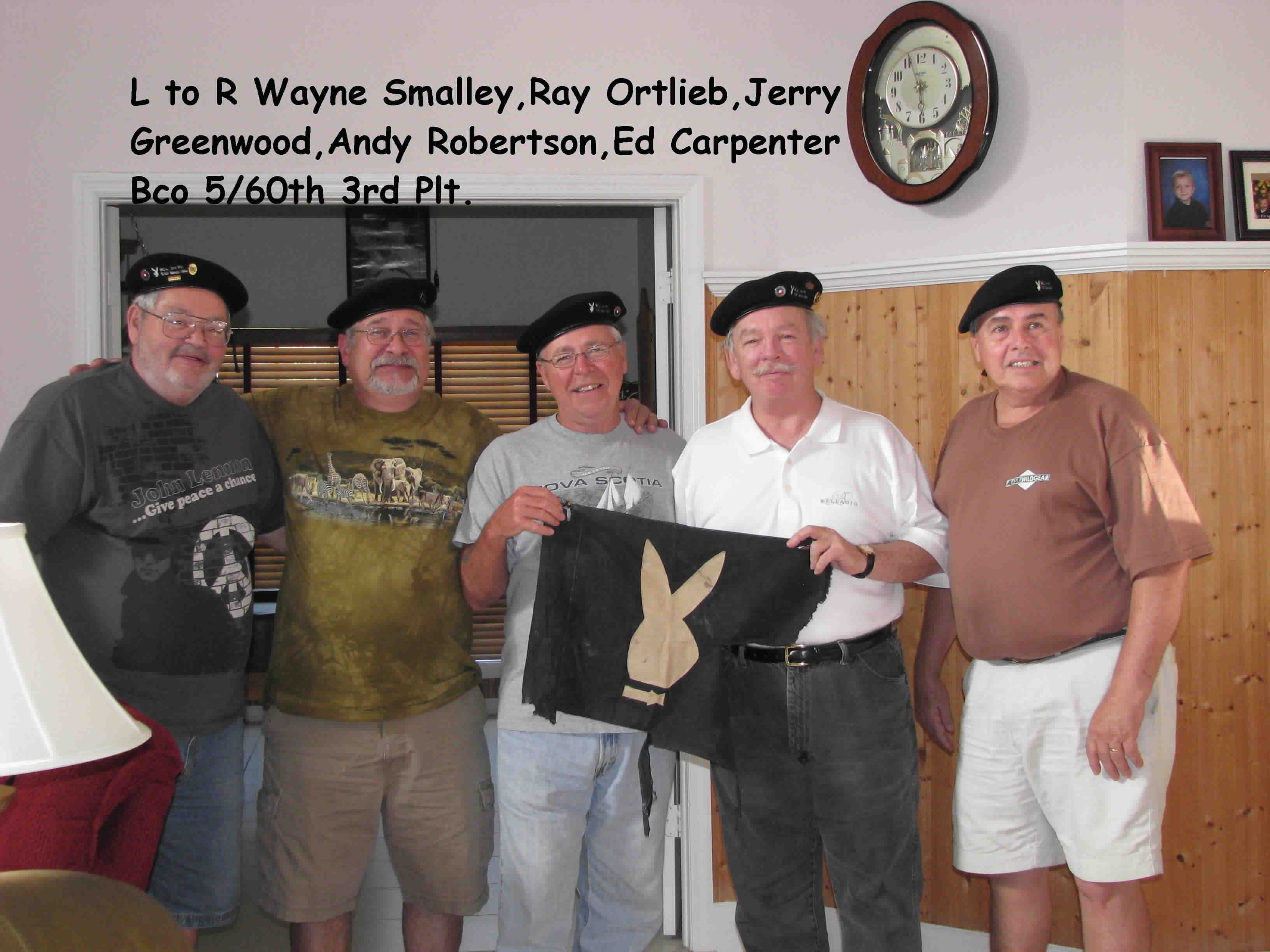 ++++++++++++++++++++++++++++++++++++++++
A group from the Franklin County North Carolina American Legion Post traveled to Ft. Bragg recently and put on a pig pickin for about 450 members of the wounded warriors battalion and their families. They cooked 3 pigs, bare bottom beans, slaw, potato salad, BBQ bread and had ice cream for dessert. It was a very rewarding experience for all of the Legion guys and was very well received and appreciated by the soldiers. 5th/60th Association member, Wayne Parrish, is the guy on the left followed by Snooky Coley from the 9th division - Wayne Rigsbee Black Horse Division - Kurt Southerland 101st Airborne - and Richard Marshall Air Force Pilot. Well Done Guys !!! (8/9/08)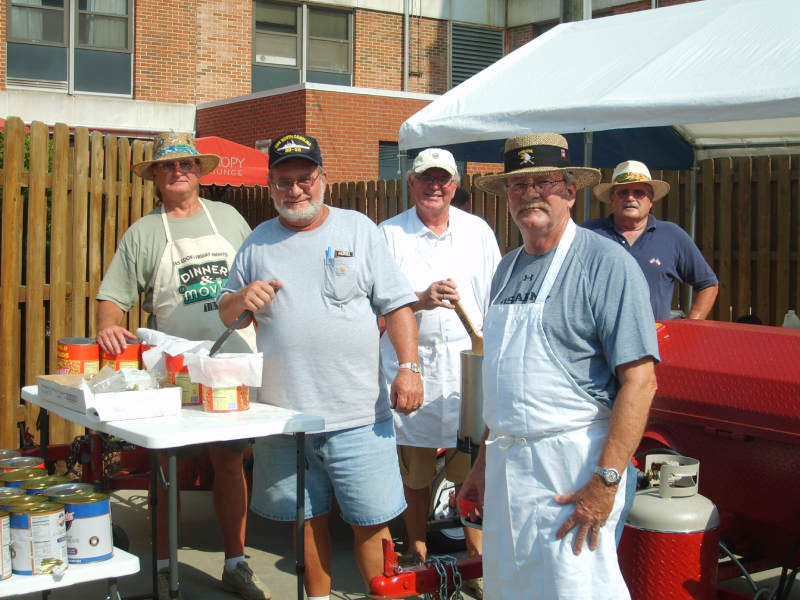 ++++++++++++++++++++++++++++++++++++++++
This link shows an interview featuring Association President, Lee Alley, produced by the State of Wyoming. It runs for 15 minutes.
++++++++++++++++++++++++++++++++++++++++
We have come to find out that our Australian FO friend, Garry Cooper, a special honoree at our 2006 St Louis Reunion, is currently battling prostate cancer. Garry would be heartened to hear any encouraging words from his 5th/60th buddies.

E-Mail: tamale35@bigpond.net.au

++++++++++++++++++++++++++++++++++++++++
This link concerns the 1st/16th Bandidos in Iraq. The film shows a flag donated to the unit by 5th/60th Association member, Buddy Gault, who is mentioned in the clip.
++++++++++++++++++++++++++++++++++++++++
This link shows Association Secretary, William Metzler, and Association President, Lee Alley, participating in the "Reading of the Names" at the Vietnam Veteran's Memorial on Veteran's Day weekend 2007.
++++++++++++++++++++++++++++++++++++++++
The 1st /16th Association came up with the idea of erecting a flagpole in Oklahoma in honor of our 5th/60th Association founded, Curtis Hatterman.
We contributed to this worthy cause.
President Lee Alley recently received this note from Debbie Hatterman:

Lee,

Thanks to you and all the guys in the Association for "everything" you have done.
Thank you for the donation towards the flagpole in Curt's memory.

God Bless,

Debbie Hatterman
++++++++++++++++++++++++++++++++++++++++
This is a link to an article on the Bandido Charlie mission in Al Asad, Iraq.
++++++++++++++++++++++++++++++++++++++++
The following was received from Al Herrera.
Al is the Secretary of the Bandido Charlie Association,
1st/16th 1st ID.The letter was writted by Jon Garner, brother of Larry Garner, concerning the Bandido Charlie tribute to Larry(8/17/07)
Dear Ken & Al,

Wow! What a roller coaster ride.

It's hard to capture the range of emotions we all experienced at the BRO/Bandido Reunion last week in St. Louis. We laughed and we cried; we felt joy and sorrow and anger and a huge sense of loss, but we always felt welcome and loved and understood.

I don't know where to begin to thank all of the members of the Regiment, Battalion and Company who made us feel so much at home. From the moment the two of you made contact with me, I felt something special was happening. I didn't know what to expect of the actual reunion experience, but I was overwhelmed. Everyone we met was so gracious, so generous and so sincere. All of us appreciate the respect you have for Larry and his memory, and the work you have done to perpetuate his legacy. We learned so much about him and his accomplishments and we're eternally grateful for that. Many of our questions were answered and you helped to bring a measure of closure to all of us. We loved Larry and it was incredible to be with a group of others who shared this love.

We're especially grateful for the opportunity to meet so many wonderful people who made the experience so special:
Both of you for all your hard work coordinating the event. I've learned over the years that dealing with the Garner Clan can be challenging. You handled our many concerns and requests with genuine caring and tact. The plaques and letters were wonderful and will be cherished by all of us. You showed great skill in navigating the politics of including the Original Bandidos in the heritage of a Division rightly proud of its many accomplishments.
Ken for your friendship, your stories, your words on Thursday evening and for your love of Bandido Charlie.
Al for your masterful handling of everything. Tactful, respectful, attentive to detail, forceful when called for and always on top of things. You exemplify the qualities of an outstanding 1st Sgt.
Phil Greenwell for all of his work, especially his work with the Thursday evening memorial. His words were heartfelt and made us even prouder of Larry and the men he led. His music selection for Saturday's Division memorial was haunting and beautiful and captured the emotions of our loss in a very special way. Larry was a friend as well as a brother, father and husband.
Betty Herrera and Linda Greenwell for being so caring, generous and supportive.
Charlie Taylor for his photos, his stories and especially the presentation of his Bandido scarf to Chris. I know it was a cherished memento of his and will be equally cherished by Chris. It was also a pleasure to meet Sam and hear from him how Larry's legacy affected both him and his dad.
Gary Bobbett for sharing memories of Larry and his accomplishments and also the great photos that caught the joy Larry felt with his Bandidos. To us Gary exemplified the positive impact that Larry had on so many individuals.
Larry Tirreno for his extraordinary photos, complete with stories for each one that captured Larry in ways that we never were able to experience. We were so happy that he included his daughter Carolyn. What a charming, poised young lady!
Martel Firing for sharing his memories of Larry and for his willingness to connect with each of us.
Tony Haug for keeping Larry's personal effects for all these years and passing them on to us. Also for the regimental insignia he found for Mike and the WWII 9th Infantry "sweetheart pin" for Harriet. I really appreciate his thoughtfulness for securing an old "Eagle, Globe and Anchor" for this former Marine.
Lucian Hinkle for seeking us out and sharing his remembrances.
LTC Ken Cassels and his wife Peggy for welcoming all of us into the 16th Infantry "family". I know Larry would have been proud to serve in his command.
"Sit Rep" Mike and his wife Sue for all their work with the Bandido material and for their willingness to simply listen and be there for us when we needed it.
Mack Mackendanz for his poetry, which captures the emotions all us have felt at various times since our service.
All the 5th/60th Bandidos who reached deep into their memories to help us learn more about Larry and his Bandidos. I know it can be a painful experience to relive the past and we're touched by their willingness to deal with that pain and share with us.


All of you who were involved in the reunion deserve to be acknowledged, and I know there are many I've not mentioned. I apologize for any lapses of memory on my part and hope you'll understand.

You probably didn't expect the entire clan when you invited Mike to the reunion. As a group we can be a bit overwhelming. Thanks for welcoming us as family and for sharing your memories with us. The reunion was an incredible experience for all of us and we'll never forget it or your generosity.

With gratitude, appreciation and heartfelt thanks.

Sincerely,

Jon & Nancy Garner
Bandidos Forever!!

++++++++++++++++++++++++++++++++++++++++


The following article appeared in the Lockport NY
Lockport Union-Sun and Journal April 11, 2007

VETERANS: Locals remember fallen brother in ceremony marking his death


By Joyce Miles/milesj@gnnewspaper.com



Standing at the foot of Veterans Monument, he pulled the news clipping out of his jacket pocket and unfolded it with care.

The news of Robert W. Raetz's swift death by sniper fire in a Vietnamese jungle has never left Ed Miller. He was in fact there, only a few feet away, when Raetz took the hit.

Miller has kept his friend's obituary, front-page news in the Union-Sun & Journal, tucked away in his wallet ever since. He brought it out of safekeeping Tuesday for a special occasion.

April 10, 2007, was the 40th anniversary of Raetz's death, and Miller decided to mark it with a memorial service in Veterans Park.

"I thought it was high time after 40 years," he said. "I was with Bob when it happened and I've never forgotten."

Miller, of Lockport, worked with Robert's only surviving relative, younger brother Ron Raetz of Newfane, to put on the service. It was a low-key affair attended by a handful of veterans, friends of the Raetz brothers, and a couple of elected officials invited to help honor a fallen local hero.

"Twists of fate" put Miller and Bob Raetz on the path to friendship, Miller recalled. Born a week apart, they both graduated from high school in 1964, Miller from Lockport High and Raetz from Newfane High; they both landed jobs at Harrison Radiator after turning 18; and they both were drafted into military service on the same day in the same place, Selective Service at the Bewley Building, yet they didn't know each other at all — until they got to Vietnam.

At the camp they occupied as fellow members of the same Army unit, B Company 5th Battalion, Miller was reading one of the hometown newspapers his mom had mailed to him when Bob approached, demanding to know, "what are you doing with 'my' newspaper?"

Thus began a friendship that gelled quickly and ended too soon.

Miller remembered he and Bob were taking part in "Operation Junction City" in spring 1967. On the afternoon of April 10, the men were heading back to their vehicle when Miller heard gunfire. As quickly as the sound dissipated, 20-year-old Bob was dead. The gunner had been struck first and Bob had moved to take over his position.

"That's how I remember him then, and every day after that," Miller said.

Miller presented a floral wreath marked "Remembered" to Ron Raetz, who laid it at the foot of Veterans Monument and shared a few memories of his own. Ron was 14 when Bob died.

"It doesn't seem like 40 years has gone by. Robert was my hero. He was my big brother," Ron said.

In one of his last letters to their parents, Ron recalled, and in the midst of a war growing increasingly unpopular at home, Bob wrote that he was fighting for his country so Ron wouldn't have to.

"It was his way of saying they'd win the war and there would be peace," Ron said. "Of course we know we'll always have war, because people just can't get along. If there were only two people in the world there would still be war."

Miller and Ron Raetz kept the memorial service largely unpublicized, to the extent that even many American Legion officers in Lockport and Newfane were unaware of it, out of respect for Bob Raetz's memory. The war in Iraq invites parallels to Vietnam, and increasingly is just as unpopular with the public, and Raetz said he didn't want to risk the service being targeted by protesters.

Raetz rejects the implications of words like "quagmire" and "no-win situation" and suggests the United States is obliged to finish what it started in Iraq, not "sneak out the back door" as it did in Vietnam.

Miller has a different view — Iraq looks like a case of "same stuff, different day," he said — but he appreciates one of the things that clearly separates the two conflicts.

"When we came home there weren't groups of people waiting at the airport with bouquets. We got jeered and spit on," Miller said. "I'm not taking anything away from the Iraq veterans, but the gratitude wasn't there 40 years ago. ... I'm grateful to see it is now."


++++++++++++++++++++++++++++++++++++++++




On a recent trip to Washington DC, 5th/60th Association President Lee Alley had a private meeting with follow Wyomingite Vice-President Dick Cheney.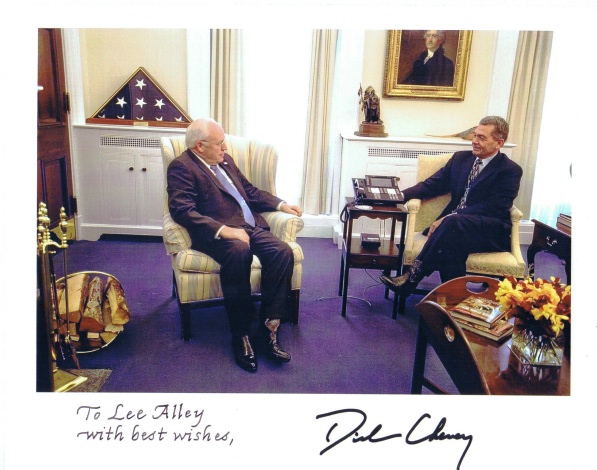 ++++++++++++++++++++++++++++++++++++++++
Jim Logsdon, Charlie Company 5/70 - 8/70, received the
"Patriot of the Year Award"
from the Military Order Of the Purple Heart at their recent convention.
This is the highest honor that the MOPH bestows.
Congratulations to Jim.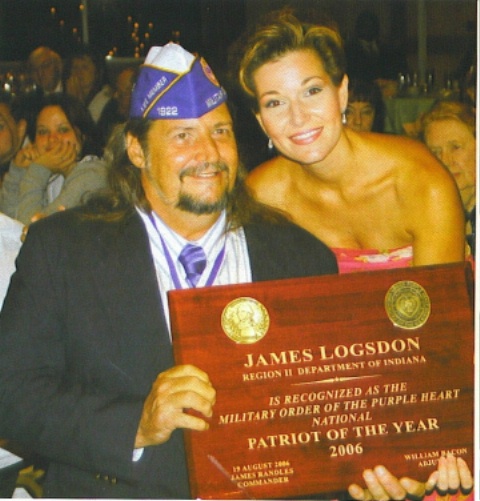 Jim Logsdon with Mrs. Heather French Henry, Miss America 2000.
Jim is on the left (g)
photo from Purple Heart Magazine (9/27/06)
++++++++++++++++++++++++++++++++++++++++
Information needed:
Our 5th/60th Historian, Alan Kisling, is seeking any information
on company movements, in the time frame of 6/69 to 10/70.
He needs:
Dates
F.S.B info
Area of operations ie. Hobo Woods, Bo Loi Woods , Cu Chi, Parrots Beak etc.

Contact Alan at:

Alan Kisling
shotout6768@sbcglobal.net
2901 Gail Avenue
Turlock, CA 95382
209-632-0835

++++++++++++++++++++++++++++++++++++++++
BATTALION NEWS:
Members and Friends of the 5th of the 60th

It is with great sadness I must report the death of one our Founding Fathers and devoted Web Master, Curtis Hatterman. Curtis died Wednesday evening, the 14th of December, 2005. I have no great words of wisdom. I only wish to share my admiration for this great soldier. Unlike many of us whose duty ended when we left the military, Curtis' had just begun.
His love and devotion to those with whom he served spawned the award winning web site of the 5th of the 60th Infantry, as well as the Bandido Charlie Site and several others. The officers of the 5th /60th have no intention of trying to replace Curtis, as that would be impossible. At the same time, a search must begin for someone to carry on his work as the Web Master.
Continuation of the web site is essential to the life of the Association.
Curtis founded it, it is his legacy.

We Love You Curtis,
Rest in Peace, Bandido

Lee Alley

Cards and Letters may be sent to Curtis's loving wife Debbie, at:

PO Box 683
Shattuck, OK 73858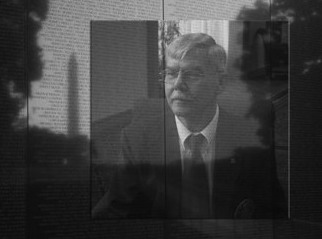 Curtis Hatterman
1946 - 2005
Charlie Company 5th/60th 6/68 - 10/68
Charlie Company 1st/16th 10/68 - 6/69
5th Battalion, 6oth Infantry Association Founder
5th Battalion, 6oth Infantry Association Web Master
Co-founder of the current day Bandido Charlie Association
A Distinguished Member of the Regiment (DMOR) of the 16th Infantry Regiment
Friend, Brother, Bandido Forever

Photo by Sarah Orlando, daughter of Doc Gil Thompson C/1/16

++++++++++++++++++++++++++++++++++++++++
Announcement


Several attendees at our reunions have mentioned friends of theirs who were unable to attend the reunion because of financial circumstances.
To help with this situation, the Association has created a "Travel Fund".

1) If any member could use some monetary assistance to attend a reunion please contact the Association President, Lee Alley at:
lee@leealley.us or phone at: 307-331-8902.
Any information given or actions taken will be kept in the strictest confidence.

2) If any members wish to contribute to this fund, please make checks payable to:
5th Battalion, 60th Infantry Association
377 Pebble Beach Drive
Rio Vista CA 94571-2140

3) Any questions about this fund, please contact Metz at:
Metz560@frontiernet.net or: 707-374-1377 (CA)

++++++++++++++++++++++++++++++++++++++++
Remember to always check the NEW ITEMS page for updates to this web site.
Click on blue links to view pages
Email the Secretary if you have Battalion news

Click to join octofoil
This web site was created on August 7, 1999
And first displayed on the Internet on October 11, 1999

For information, questions or comments about this web site,
please email the Secretary - William Metzler


SiteRing by Bravenet.com